鬼蚁
by xw
读蚁笔记:Devil's Garden, Lemon ants
by xw » May 17 2012
蚂蚁世界上除了南极,哪儿都有分布,当然以热雨林为盛。亚马逊雨林物种复杂多
样,单说树,随便走十来步就能遇到不下一百种树,只要你心静眼细。前一贴提到
割叶蚁,却只是粗浅一提,更多是其浪漫的一面,未提重其侵害力,于农作物。据
说当年哥伦布后的农场都弄不起来,就因此蚁,还到处寻觅灭蚁途径未果。亚马逊
雨林浩荡,早已经历了各类蚁痪,无论是割叶蚁还是兵蚁疯狂虏掠,那一点叶子从
来是小意思。又说前面提到蚁的分布,除了地上,亚马逊雨林更多的是在树上,无
论树中还是树杆树枝梢筑巢。其有有一类蚁,Lemon Ants,倒是特别保护一种树木,
Duroia hirsuta,逐灭异类,以至于方园一片只生单一此树物,在这亚马逊雨林属
于异数,有命名Devil's Garden。
我上回去亚马逊雨林踏一回旱地,有时就遇到了此种树木,当时导淳只说是魔鬼树,
树根分泌一些毒汁除灭阻止异种树在周边生育。果然周边一带无杂丛,地表空荡荡,
也让人尝边上树杆胀节中掰开的蚂蚁,Lemon Ants,尝之有柠檬味,维生素C。
回来后查寻资料,未找到Deviltree倒是在读蚁中找到了种Myrmecophyte现象的所
谓Devil's Garden。树还是一种树,柠檬蚁记忆犹新。导游说的未必精确,或者是西
语世界的常情,或者信息已过时。幸好柠檬蚁与魔鬼树自然相连,看来所说的是同
一件事。虽然,先后有两种科学调研,我一并相提:
A number of Duroia species, and possibly all, are capable of biochemical
interactions inhibiting the growth of neighbouring plants. Analysis of root
extracts from Duroia hirsuta have yielded a strong plant growth inhibitor
plumericin, a tetracyclic iridoid lactone, and duroin, another iridoid lactone.
This process, common amongst plants, is termed allelopathy.
上回写亚马逊,踏一回旱地,查到这里就满意到。这回不然,因为读学蚁,似乎这
个调研已属过去,94,99年的。新的探研,可见:
The few studies of the mutualism between M. schumanni-D. hirsuta have
incorrectly concluded that these clearings are formed by allelopathy on the
part of D. hirsuta. It was established that worker ants were injecting leaves
with formic acid, a toxin commonly produced in ant species, and the plants
started to die within 24 hours.
By killing other plants, the ants provide themselves with many nest sites - a
long-lasting benefit as researchers estimate that the largest garden observed,
containing 328 trees over 1,300 square metres, is around 800 years old.
http://www.stanford.edu/~dmgordon/frede ... on2007.pdf
看来魔鬼花园,还是柠檬蚁作的怪。而原住民那里迷信,以为an evil forest spirit
Chullachaki(meaning "uneven foot, single foot" in Kichwa) lived in them.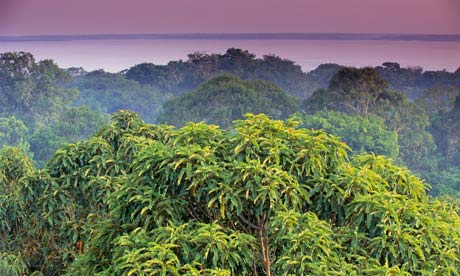 The devil to pay: a cost of mutualism with Myrmelachista schumanni ants in
'devil's gardens' is increased herbivory on Duroia hirsuta trees.
Frederickson ME, Gordon DM.
Department of Biological Sciences, Stanford University, Stanford, CA 94305-5020, USA.
megan@post.harvard.edu
Abstract
'Devil's gardens' are nearly pure stands of the myrmecophyte, Duroia hirsuta,
that occur in Amazonian rainforests. Devil's gardens are created by Myrmelachista
schumanni ants, which nest in D. hirsuta trees and kill other plants using formic
acid as an herbicide. Here, we show that this ant-plant mutualism has an associated
cost; by making devil's gardens, M. schumanni increases herbivory on D. hirsuta.
We measured standing leaf herbivory on D. hirsuta trees and found that they
sustain higher herbivory inside than outside devil's gardens. We also measured
the rate of herbivory on nursery-grown D. hirsuta saplings planted inside and
outside devil's gardens in ant-exclusion and control treatments. We found that
when we excluded ants, herbivory on D. hirsuta was higher inside than outside
devil's gardens. These results suggest that devil's gardens are a concentrated
resource for herbivores. Myrmelachista schumanni workers defend D. hirsuta
against herbivores, but do not fully counterbalance the high herbivore pressure
in devil's gardens. We suggest that high herbivory may limit the spread of devil's
gardens, possibly explaining why devil's gardens do not overrun Amazonian rain
-forests.
魔鬼花园(D. hirsuta, Rubiaceae)
柠檬蚁(with larvae/pupae)